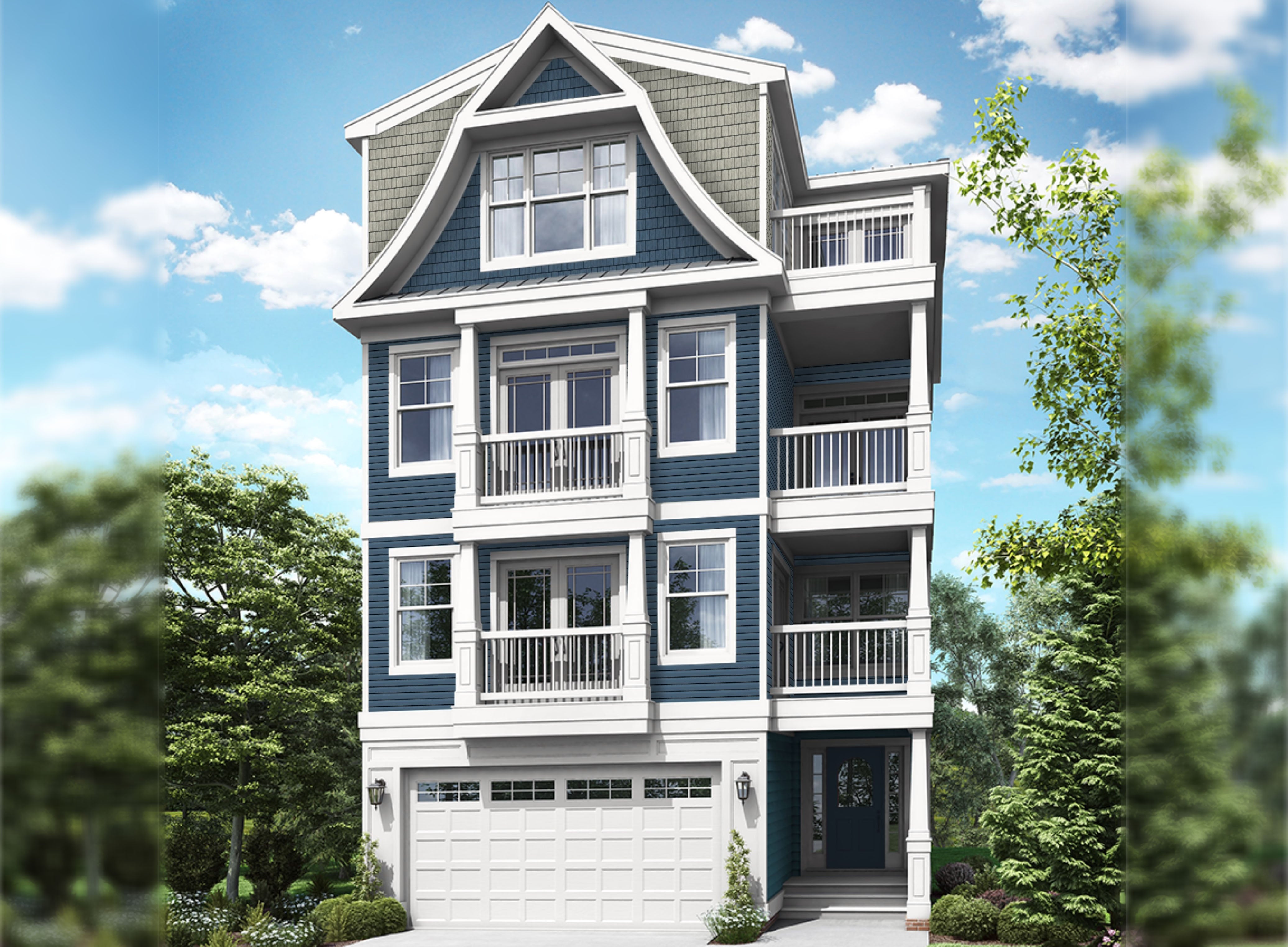 Insight Homes is excited to reveal a new floor plan in their private, waterfront, Sunset Harbour community in the form of a beautifully furnished new model home. Insight Homes is revealing this new model by hosting a grand opening party on Saturday, July 7th and is inviting homeowners in Sunset Harbour, Real Estate agents, and the general public alike to join in the festivities. 
The new model, named The Isakoff, is a four-story, 5,000 sq ft stunner. Featuring balconies on every level, this home was specially designed for homeowners in the Sunset Harbour community to take full advantage of the amazing water views. The luxurious possibilities are endless in this home. Available options ranging from a wet bar on the bottom level to a gourmet kitchen with waterfall granite island to an elevator, allow ample space for personalization. With space to add up to seven bedrooms, The Isakoff is great for family vacations and entertaining. The fourth floor loft with water views abound, certainly cannot be overlooked. 
Sunset Harbour is a truly special and unique community. With every home including a private boat slip, homeowners can park their boat like they'd park their car. Easily take the boat to dinner at Hammerheads Restaurant or Paradise Grill. In Sunset Harbour, homeowners can truly revel in the boating lifestyle. Close proximity to Bethany Beach, DE makes shopping quick and convenient. A waterfront pool and clubhouse round out the list of amenities in this new home community. 
Furnished by an award-winning design firm, the design exudes an upscale environment that is relaxed, comfortable, and inviting. Upgraded trim and elegant built-ins maximize the functionality and high-end feeling this house radiates. The color palette of teal-to-jade gem tones mixed with classic nautical navy will have visitors designing the home of their dreams in their minds before they even step out the door. This is a house that buyers seeking authentic coastal living at its finest will want to play-in and proudly call "home."
"You really can't beat this location," said Insight Homes Marketing Manager, Lisa Thornton. "You're close to the beach and the water view from the top of this four-story model is incredible. Make sure to come out for our grand opening because we'll also be unveiling a new floor plan in a different price point."
The new model is located at 38124 River Street, Ocean View, DE 19970. The grand opening festivities will run from 10 AM to 5 PM on Saturday, July 7, 2018.